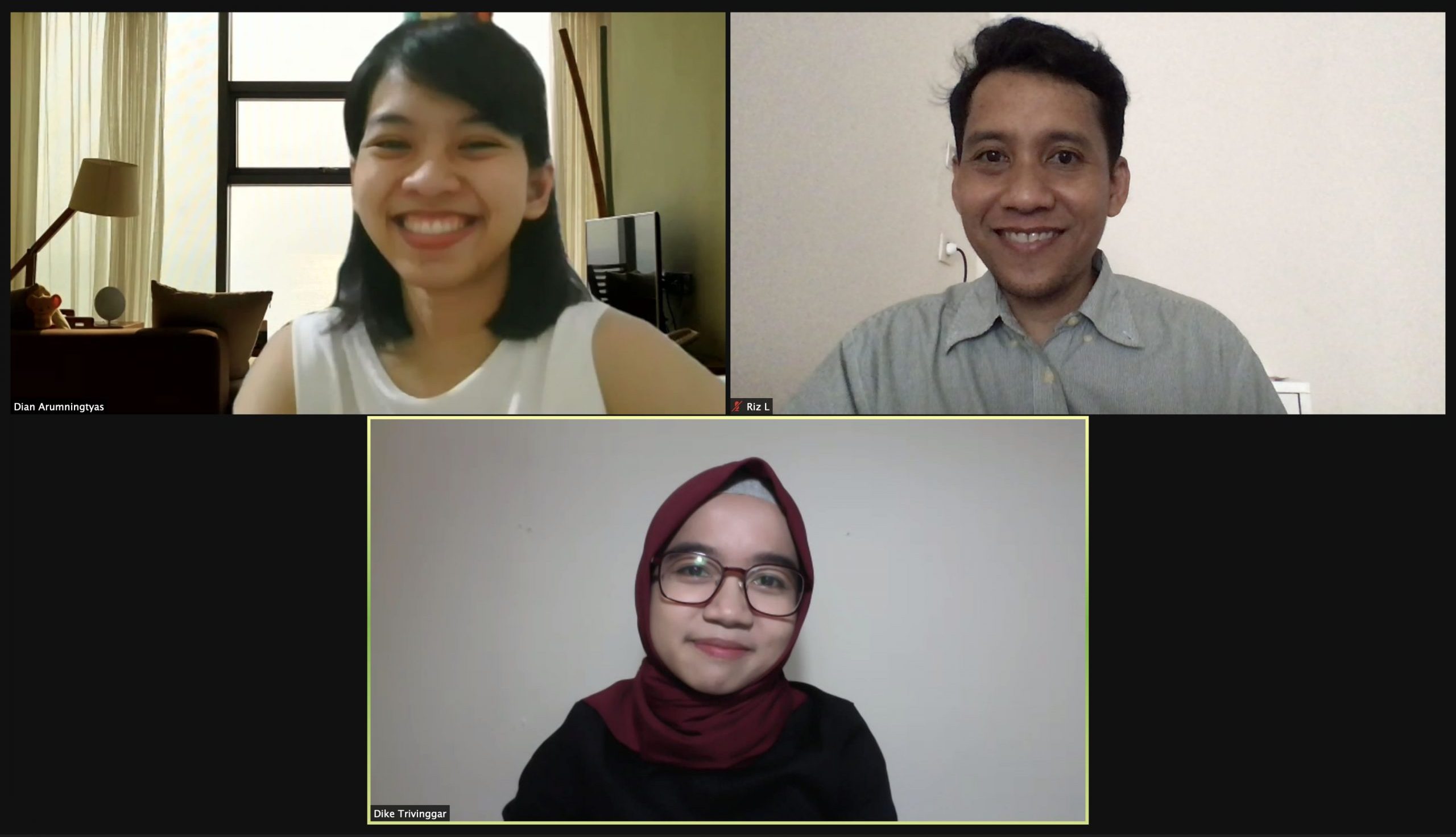 Indeks adalah sebuah inisiatif riset independen yang aktif bergerak sejak Februari 2020, sebagian besar kegiatannya memanfaatkan wahana daring. Indeks menjadikan pelacakan jejak perkembangan ekosistem seni di Bandung, menginisiasi dialog, dan mendorong pertukaran pengetahuan antarpraktisi seni, sebagai misi utama.  
Indeks digawangi tiga professional muda dari berbagai latar belakang dan bidang keahlian, yakni, Dian Arumningtyas, periset yang fokus pada isu diplomasi budaya, pertukaran artistik, dan inisiatif ruang. Ia tengah merancang riset tentang residensi seni di Jepang yang meraih program Fellowship Ishibashi Foundation dari Japan Foundation, Rizki Lazuardi, seorang seniman dan kurator yang aktif dalam kerja kerarsipan, salah satunya di Netherlands Institute for Sound and Vision, dan Dike Trivinggar, seniman cum asisten pengajar di program studi Seni Rupa Universitas Telkom. Kolaborasi ketiganya membuat Indeks memiliki modal kuat untuk membaca perkembangan dan pengetahuan tentang seni dan budaya. 
Untuk menjalankan misinya, Indeks memiliki enam program utama yakni, Pertama, penayangan film dan moving image yang terdiri dari Palapa #1 – Southeast Asian Space Program, Palapa #2 – In Search for the Divine Limits, dan Palapa #3 – (N)on Human. Kedua, Port sebuah program berbagi prasarana seperti akun virtual, dan Ketiga, Opus, hibah situs website untuk seniman. Mira Rizki Kurnia, seniman asal Bandung menjadi penerima hibah yang pertama.
Keempat, Indistinct Chatter, diskusi dengan beragam topic seputar skena seni rupa, yang telah berlangsung di antaranya, Indistinct Chatter #1 – On Living and Being: Rethinking Spatiality in Residency Programs, Indistinct Chatter #2 – After the Public License: On Internet-Aware Art Beyond the Online Exhibition, Indistinct Chatter #3 – Here, There, and Everywhere Negotiating Residency as A Survival Strategy, Indistinct Chatter. Kelima, The Inhabitants, sebuah seri program yang fokus pada penelitian dan eksperimen di bidang residensi seni yang yang telah dilaksanakan adalah dalam The Inhabitants: In Text dan The Inhabitants: Adopt a Project, Konon Kanon, seri diskusi yang mengeksplorasi dan mendistribusikan ide dan wacana yang menghasilkan kritik dan teks kuratorial, dan sesi bincang-bincang menjadi program keenam, menjadi bagian dari program riset yang tengah berlangsung. 
Kini Indeks sedang berupaya menggarap residensi seniman sambil terus menjalankan kerja digitalisasi koleksi arsip dan melebarkan sayap jejaring.