Joned Suryatmoko
DI Yogyakarta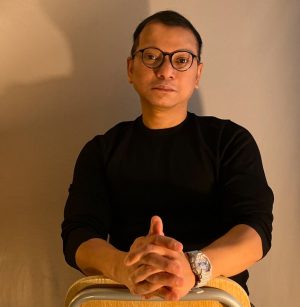 Joned Suryatmoko adalah praktisi teater yang banyak bergiat di Yogyakarta, Ia lahir di Solo pada tanggal 21 Maret 1976. Joned mendapat gelar sarjana sosial dalam bidang hubungan internasional dan meraih gelar magister di bidang kajian budaya dan media dari Universitas Gajah Mada. Kini, Ia tengah menempuh pendidikan doktoral di progam Theatre and Performance, the Graduate Center City University of New York, Amerika. Selain berfokus penelitian pada kewarganegaraan di Indonesia, Joned juga menaruh perhatiannya terhadap perkembangan teater dan pertunjukan di Asia Tenggara. Pada 2020, bersama jaringan teater se-Indonesia, Joned menginisiasi pembentukan Penastri (Perkumpulan Nasional Teater Indonesia) dan menjadi Dewan Pengawas masa bakti 2021-2023. 
Ia mendirikan kelompok teater Gardanalla pada tahun 1997, membuat aneka macam pertunjukan dan membangun jejaring dengan beragam komunitas, mulai dari masyarakat adat, remaja, pekerja seks, komunitas LGBT, anak jalanan, dan kaum difabel. Joned tertarik dengan kerja lintas disiplin dan mengeksplorasi kemungkinan ruang baru, juga pada batas antara teater dan pertunjukan; linearitas dan simultanitas; karakter dan autobiografi, serta akting dan keaslian.
Joned Suryatmoko telah terlibat dan menampilkan karyanya dalam berbagai macam acara berskala nasional maupun internasional, seperti di Monsoon Platform, Asian-European Artist (Seoul, 2006), Visible City Melbourne (Melbourne, 2006), Southgate Project (Melbourne, 2006), Virgin LabFest Manila (2006), Jogja Biennale, Indonesia (2015) dan Art Summit Indonesia 8.0 (2016). Ia juga mempersembahkan permainannya di Asia Playwright Meeting di Tokyo, Jepang (2009) dan Melbourne (2011), serta Visible City Melbourne Fringe Festival (2010). PEN World Voices New York (2015) juga The Global Voices, Portland, USA (2016/2017).
Joned Suryatmoko pernah menjabat Direktur Indonesian Dramatic Reading Festival (IDRF) dan spesialis teater di Creative Community Program yang dibentuk Yayasan Kelola dan World Bank. Kini ia menjadi Direktur Konferensi Pertunjukan dan Teater Indonesia. Lebih lanjut, Ia telah menerbitkan naskah-naskah dramanya seperti Ayahku Stroke Tapi Enggak Mati: 3 Naskah Drama Remaja Teater Gardanalla 2003-2005 (Galangpress, 2005), Bertiga (Forum Penulis Lakon, 2013), dan Threesome: A Play In One Act (Lontar, 2015). Naskah Piknik karyanya juga masuk dalam kumpulan lakon Southeast Asian Plays (Aurora Metro, 2017). Joned juga berakting dalam film Vakansi yang Janggal dan Penyakit Lainnya (2012), film pendek A Lady Caddy Who Never Saw a Hole in One (2013), film biografi Wiji Thukul Istirahatlah Kata-Kata (2016) serta Sultan Agung (2018).