Michael Asmara
DI Yogyakarta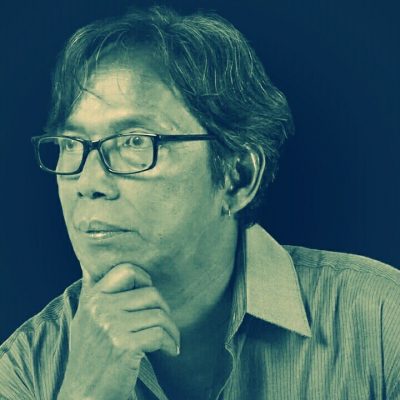 Michael Asmara adalah seorang komposer musik kontemporer yang tinggal di Yogyakarta, lahir di Jakarta 17 Juni 1956. Ia mendalami analisa bentuk musik, harmoni, kontrapung  dan orkestrasi  di Akademi Musik Indonesia Yogyakarta (kini menjadi ISI Yogyakarta) pada 1980-1983. Bersama dengan Slamet Abdul Sjukur, Otto Sidharta, dan Tony Prabowo, Michael Asmara merupakan komponis terkemuka di Indonesia.
Selama menempuh pendidikan formal, Michael mengambil mayor instrumen gitar dan minor piano,  untuk komposisi musik  dia belajar secara otodidak. Pada 1981, Michael Asmara mulai menulis karya perdananya untuk paduan suara, organ gitar, dan biola berjudul Ilusi Untuk Hidup  dan dipentaskan di Festival IKI di Surakarta. Sejak saat itu ia kemudian sering menulis komposisi. Banyak komposisi musik yang ia tulis  dengan menggunakan instrumen musik Eropa dan gamelan Jawa. Interpenetrasi tersebut membuat  komposisi  Michael menjadi unik, paduan antara filosofi timur dan idiom-idiom barat. Berbagai komposisinya itu telah dimainkan di berbagai festival musik, baik dalam skala nasional maupun internasional seperti di Amerika, Jepang, Selandia Baru, Thailand, Turki, Singapura dan Malaysia. Karyanya telah dimainkan juga di Asian Composer League  Asian Music Festival (Tokyo, 2003; Thailand, 2005; Taiwan, 2011; Singapura, 2013),  Simposium Komposisi Internasional " The Timbre of Hue" Vietnam dan Art Summit Indonesia 2007, dan China Asian Music Week di Naning 2015.
Michael juga banyak menulis karya pesanan antara lain dari Izumi Hall, Osaka, Jepang untuk  Shin Nakagawa atau Gamelan Marga Sari, Trio To Be Sung Belanda, pemain bassoon Michael Graza, Eduard van Beinum Foundation untuk ensemble  Dutch Chamber Music Company maupun  karya pesanan dari Asian Contemporary Music Ensemble dsb .  Tahun 2019, ia mendapatkan Bellagio Residency Award yang bergengsi. Michael Asmara juga menyelengarakan Yogyakarta Contemporary Music Festival pada tahun 2003 dan menjabat sebagai direktur sejak awal berdiri sampai sekarang. Ia juga menjabat sebagai direktur artistik dan manajer Yogyakarta Contemporary Music Ensemble. 
Selain sebagai komposer, Michael juga pernah menjadi panelis untuk Hibah Dana Yayasan Kelola, juri Kompetisi Komposisi KLHS Bandung , Singapore, Malaysia dan Thailand yang diselenggarakan oleh Goethe Institute, dan juri untuk Composition Competition Singapore Chinese Orchestra. Ia juga kerap diundang Kemendikbud sebagai salah satu pakar musik saat penyusunan kebijakan.