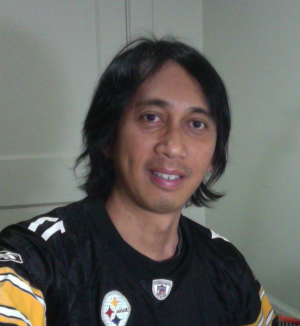 Rizky Sasono populer dengan nama Risky Summerbee adalah seorang musisi, penyanyi, dan penulis lagu Bersama Risky Summerbee & the Honeythief. Bersama kelompoknya Ia telah merilis 3 album atas nama Risky Summerbee & the Honeythief, yaitu The Place I Wanna Go (2009), Preamble (2011), Pillow Talk (2014), serta album live 'Paeans for Onlookers' (2015).  Dengan nama tersebut, Ia telah manggung di berbagai festival musik nasional maupun internasional, seperti 'Rocking The Region – Esplanade Singapura' (2010), RRREC FEST (2011), OzAsia Festival – Adelaide, Australia (2015), dan Ngayogjazz (2016). Beberapa karya pertunjukannya antara lain She Flies Tomorrow (2007), The Rise and Fall of a Scoundrel Queen (2007), karya kolaboratif dengan Slamet Gundono dalam Memoirs of Gandari (2008), dan I Walk the Urban Streets (2010) bersama Ruangrupa.  
Berafiliasi bersama Teater Garasi/Garasi Performance Institute, Ia terlibat di banyak pementasan Teater Garasi, diantaranya Waktu Batu I (2002), Goyang Penasaran (2011), Endgame (2013), Je.ja.l.an (2008, 2010, 2015). Ia juga menggubah musik untuk film Panjang sutradara Dirmawan Hatta: Optatissimus (2012) Kau dan aku Cinta Indonesia (2013), film pendek sutradara Ninndi Raras: Kitorang Basudara / We're All Brothers (2015) dan Elinah (2018), serta karya tari Ajeng Fatimah Solaeman: Endchat (2013), (Be)Longing (2014) dan Pada Batas / On the Verge (2016)   Sebagai pegiat musik independen, Ia menginisiasi program 'Live at Teater Garasi', yang menampilkan band-band mutakhir dari Indonesia dan sekitarnya sejak tahun 2009 sampai 2018.
Tahun 2014 bersama rekannya Leilani Hermiasih, ia mendirikan LARAS, sebuah Lembaga kajian yang menelisik musik populer dan perannya dalam masyarakat. Setelah lama lulus dari jurusan Sastra Prancis Universitas Gadjah Mada (UGM), ia melanjutkan studinya di Pengkajian Seni Pertunjukan dan Seni Rupa Sekolah Pascasarjana UGM. Saat ini Rizky merupakan kandidat Doktor di bidang etnomusikologi di Department of Music, University of Pittsburgh, Amerika Serikat, dengan penelitiannya yang menelisik ranah musik Independen (Indie) di Indonesia.