Zen Hae
Jakarta Barat
Alamat Email:
zenhae@gmail.com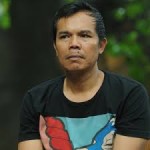 Zen Hae menulis cerpen, puisi, esai dan kritik sastra, lahir di Jakarta, 12 April 1970. Ia menempuh studi di Jurusan Bahasa dan Sastra Indonesia IKIP Jakarta (kini Universitas Negeri Jakarta).  Ia menerbitkan buku kumpulan cerpen Rumah Kawin (Kata Kita, 2004) dan buku puisi Paus Merah Jambu (AKAR, 2007). Paus Merah Jambu meraih penghargaan Karya Sastra Terbaik 2007 versi majalah Tempo. Selanjutnya, kumpulan cerpen edisi tiga-bahasa (Indonesia, Jerman, Inggris) The Red Bowl and Other Stories (Lontar, 2015). Ia ko-editor untuk dua jilid The Lontar Anthology of Indonesian Short Stories dan Antologi Cerpen Indonesia (Lontar, 2017). Ia juga ko-editor untuk penerbitan BTW Book seri kedua yang diterbitkan oleh Yayasan Lontar menjelang London Book Fair 2019. Bukunya yang sedang dalam proses terbit adalah kumpulan esai sastra dan teater Sembilan Lima Empat oleh penerbit JBS, Yogyakarta.
Zen pernah menjadi anggota Komite Sastra Dewan Kesenian Jakarta (2006-2012); sebagai Ketua Komite Sastra pada tiga tahun pertama. Pada 2012 ia bergabung dengan Komunitas Salihara dan sejak 2018 menjadi kurator untuk program Gagasan di komunitas tersebut. Pada 2017 ia menjadi penulis mukiman (writer-in-residence) di Praha dan Český Krumlov, Republik Ceko, atas dukungan Komite Buku Nasional-Kementerian Pendidikan Kebudayaan. Sejak 2020 ia juga membatu keredaksian Yayasan Lontar.
Di samping menulis, Zen Hae terlibat dengan aneka macam kegiatan kebudayaan. Ia adalah salah satu pendiri Koalisi Seni. Sempat beberapa kali menjadi juri Sayembara Novel Dewan Kesenian Jakarta, Festival Teater Jakarta 2019, dan penampil dalam The Jakarta International Literary Festival (JILF) 2019. Zen juga sempat menjadi aktor dalam film Koper (2006) besutan Richard Oh. 
–
Kredit foto: @Witjak Widhi Cahya/Salihara