Alexandra Karyn
DKI Jakarta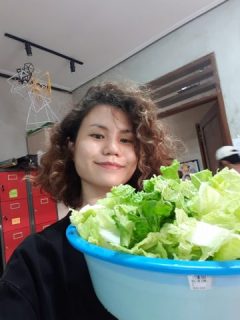 Alexandra Karyn (Jakarta, 1995) merupakan seorang seniman dan pengajar seni yang
berbasis di Jakarta. Karyn menempuh studi Fine Arts di Northumbria University, Inggris
tahun 2013-2016. Di tengah pelbagai aktivitas keseniannya, ia mengajar kelas Informasi dan
Interpretasi Seni, serta kelas Conceptual Writing di Erudio Indonesia.
Sebagai seorang seniman, praktik artistik dan riset Karyn menjelajahi berbagai metode
pembuatan gambar, terutama melalui medium teks dan situasi. Ia juga kerap
mengeksplorasi medium instalasi, kertas, dan seni grafis.
Dalam karya-karyanya, Karyn kerap mengeksplorasi dinamika hubungan antar manusia dan
lingkungan sekitar. Ia juga kerap mengangkat konsep stillness yang tergambarkan dalam
beberapa karya instalasinya selama menetap di Inggris, yaitu Fabricated Thoughts
(Northumbria University, 2015) dan Circling (Northumbria University Degree Show, 2016).
Sekembalinya ke Indonesia, Karyn telah terlibat di pameran Exi(s)t #7: From Another Time
(Dia.Lo.Gue Artspace, Jakarta, 2018), proyek seniman residensi Bearing Witness (Rumah
Tangga, Depok, 2019), serta I wanna dance with somebody (who loves me)…* (Rubanah
Underground Hub, Jakarta, 2020).
Karyn juga tengah mendalami praktik kuratorial, manajemen seni, dan penulisan kreatif. Ia
telah menguratori salah satu pameran tugas akhir Erudio Indonesia, Movement of Souls
(Gudskul Ekosistem, Jakarta, 2019) dan pameran A Certain Uncertainty (Third Eye Space,
Jakarta, 2020).
Di luar aktivitas keseniannya, Karyn merupakan salah satu penggagas aksi aktivisme
lingkungan Jeda Untuk Iklim (2019-kini). Ia juga aktif terlibat di dalam gerakan Extinction
Rebellion Indonesia (2019-kini).