Alia Swastika
DI Yogyakarta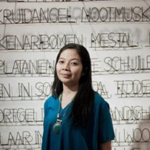 Alia Swastika adalah lulusan Jurusan Komunikasi Universitas Gadjah Mada, Yogyakarta. Sejak 2000 ia aktif menerbitkan esai-esainya di jurnal akademik dan mempresentasikan penelitiannya di berbagai seminar dan lokakarya. Pada 2000-2004 ia menjadi editor untuk terbitan Surat dan Manajer Artistik Cemeti Art House, Yogyakarta. Alia telah mengikuti beragam program pertukaran seniman dan residensi, antara lain, program UfaFabrik di Berlin, Jerman (2005), magang di The Asia Society, New York, dengan dana dari Asian Cultural Council (2006), ArtHub, Shanghai (2007) dan magang di National Art Gallery, Singapura (2010). Sejak 2008 ia menjadi kurator di Ark Galerie, Jakarta.
Beberapa karya kuratorialnya antara lain The Past The Forgotten Time (Amsterdam, Jakarta, Semarang, Shanghai, Singapura, 2007-2008); Manifesto: The New Aesthetic of Seven Indonesian Artists (Institute of Contemporary Arts, Singapura, 2010); dan pameran tunggal Eko Nugroho, Tintin Wulia, Wimo Ambala Bayang dan Jompet Kuswidananto.
Pada 2011 Alia menjadi kurator Biennale Jogja XI bersama Suman Gopinath (India) dengan mengeksplorasi tema spiritualitas, religiusitas dan kepercayaan. Pada 2012 ia kurator pameran yang berfokus pada seniman Indonesia di Art Dubai 2012 dalam program "Marker". Kerja kuratorial terbarunya ialah sebagai ko-direktur artistik The 9th Gwangju Biennale: Roundtable, Korea Selatan, bersama lima kurator lainnya dari Asia. Selain itu, Alia pernah menjadi Sekretaris Koalisi Seni periode 2015-2018.