Idaman Andarmosoko
DKI Jakarta
Nomor Telepon:
+62-878-8867-4369
Alamat Email:
idaman.andarmosoko@gmail.com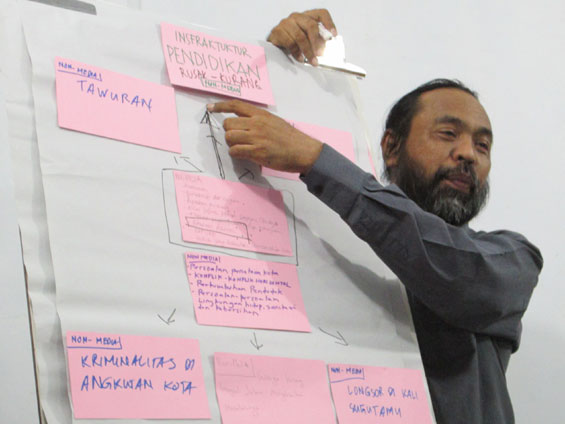 Idaman Andarmosoko bergabung sebagai anggota Koalisi Seni pada tahun 2015. Idaman Andarmosoko dikenal sebagai fasilitator untuk organisasi laba maupun nirlaba, terutama di bidang hak asasi manusia, manajemen informasi dan manajemen pengetahuan. Ia banyak menangani acara-acara sebagai fasilitator, diantaranya 2nd Asia Source Camp on Free Open Source Software, www.tacticaltech.org, HIVOS dan UNDP-APDIP, International workshop on Challenges and Opportunities for freedom of Expression: An exploration of the networked communications environment in Asia (2007), Global Partners Associate, Ford Foundation, dan Combine Resource Institute.
Dalam acara Pelatihan Pemantauan Media Berbasis Komunitas yang diselenggarakan oleh Forum Lenteng, Idaman Andarmosoko hadir sebagai pembawa materi. Idaman Andarmosoko membawakan materinya yang berjudul "Identifikasi Permasalahan Media dan Pemantauan". Ia menyampaikan pemahaman-pemahaman dalam mengidentifikasi masalah melalui pohon identifikasi masalah, yang mana merupakan salah satu cara yang cukup efektif untuk memahami suatu masalah.
Selain itu, Idaman Andarmosoko juga pernah menjadi narasumber dan fasilitator pelatihan pada kegiatan Pelatihan Pengelolaan Pengetahuan untuk Organisasi Masyarakat Sipil (OMS). Kegiatan tersebut diadakan pada 11-14 Juni 2012 di Rumah Kemuning, Jakarta Selatan.
Pada "Diskusi: Unpacking Jakarta" yang merupakan bagian dari rangkaian acara Unpacking Festival Teater Jakarta, Idaman Andarmosoko turut terlibat dengan berperan sebagai moderator.
Program Cultural Hotspots yang dilaksanakan di Lombok pada Februari 2016, Idaman Andarmosoko menyampaikan materi manajemen. Dimana terdapat empat hal utama dalam manajemen komunitas yaitu perencanaan, pelaksanaan, kendali, dan umpan balik. Pada program yang diinisiasi Koalisi Seni ini, Idaman Andarmosoko juga membahas mengenai dokumentasi, arsip, dan data.
Idaman Andarmosoko dapat dihubungi melalui: idaman.andarmosoko@gmail.com