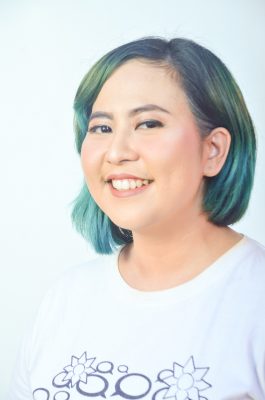 Karlina Octaviany adalah seorang antropolog digital, konsultan komunikasi digital, dan graphic recorder asal Jakarta, Indonesia. Perempuan yang akrab disapa Alin ini menempuh pendidikan master di bidang Ilmu Antropologi Digital di University College London, Inggris dengan beasiswa UK Government Chevening FCO Scholarship pada 2015. 

Sebagai antropolog digital, Alin mempelajari dampak digital dalam keseharian dan relasi sosial masyarakat. Setelah menempuh pendidikan S2, ketertarikannya mengamati perilaku masyarakat terkait literasi digital berawal dari permintaan ayahnya selaku ketua RT untuk mengikuti pelatihan pengumpulan data kependudukan melalui formulir online di kelurahan.  Ternyata dalam pelatihan tersebut, alih-alih sebagai peserta ia malah menjadi pelatih yang mengajari para ibu yang gagap teknologi. Kegagapan ini, menurut Alin, menjadi pangkal dari langgengnya hoax yang beredar di aplikasi komunikasi di kalangan ibu. Hal itu membuat Alin dan kedua rekannya tergerak untuk membedah fenomena penyebaran hoax dengan mendirikan wadah literasi digital untuk para ibu, Indonesia Voice of Women (Invow).
Target awal Invow adalah pelatihan literasi media digital kritis untuk perempuan. Untuk permulaan, Invow memilih kelompok ibu kader Kotaku (Kota Tanpa Kumuh) di Jakarta, Bandung, dan Tangerang Selatan. Hanya dengan berbekal 2 sesi pelatihan berdurasi 2 jam per kelompok. "Bagi para ibu, mempelajari literasi digital mendasar masih kusut bercampur dengan tantangan beban domestik kehidupan. Waktu ibu untuk bisa duduk dan belajar mengejar kemajuan teknologi sangat sempit," ujar Alin yang pernah menjadi wartawan sains, teknologi, dan musik. 
Bersama Invow, perempuan yang pernah menjadi pembicara dalam diskusi internal Koalisi Seni, "Jurnalisme Musik Indonesia dan Korea Selatan" ini, giat melakukan pelatihan, fasilitasi, dan inovasi untuk pengenalan internet, pengecekan hoax, dan pengembangan strategi komunikasi kreatif. Hasilnya, menurut Alin, hanya dengan 2 x 2 jam, para ibu sudah dapat memahami konsep dasar internet. Invow berkembang memberikan pelatihan literasi dan kampanye digital untuk aktivis perempuan dan HAM. 
Berkat dedikasi tinggi pada literasi digital, Alin meraih berbagai pengalaman dan penghargaan sebagai pembicara di skala nasional dan internasional, di antaranya, pembicara 2020 International Conference of Asian Marketing Associations-Korea Advertising Society, Korea Selatan, 2018 International Conference on Sustainable Development, Columbia University, Amerika Serikat, TEDx Jakarta: You 2019, 2016 Connected Life di Oxford Internet Institute, University of Oxford, Inggris, 2016 Chevening Conference "Global Ambition" di University of Birmingham, Inggris. Karlina meraih tiga Chevening Alumni Program Fund (CAPF) 2017, memenangkan #SepedaJokowi 2017 dari kompetisi Facebook Presiden Jokowi, dan pemenang kompetisi foto 2016 Love Great Britain #OMGB Photo Competition di Inggris.