Melati Suryodarmo
Jawa Tengah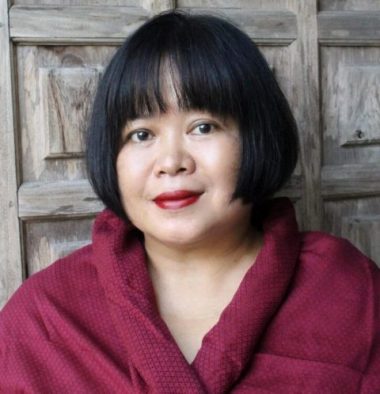 Melati Suryodarmo adalah seorang seniman performans, direktur artistik, koreografer, dan penggagas Studio Plesungan di Surakarta, Indonesia. Ciri khas dari karya Melati adalah elaborasi pengalaman tubuh dengan pantulan budaya, sosial, politik, dan konstelasi tempat hidup yang dibawakan dalam long durational performance atau pertunjukan berdurasi panjang. 
Di tiap penampilannya, ia bercerita tanpa kata, hanya mengandalkan gesture, mimik wajah, bantual audio visual, dan property sederhana seperti bola hitam, arang, mentega, dan cat. Sepanjang dua dekade kiprahnya di dunia seni performans, alumni magister Seni Pertunjukan dan Raum Konzept di Hochshule für Bindende Kunste Braunschweig, Jerman ini telah menghasilkan puluhan karya, di antaranya yang paling termahsyur, The Butter Dance (2000), The Promise (2002), I Love You (2007), The Black Ball (2004), Kleidungsaffe (2006), The Lover Across The Sea (2013), I'm a Ghost in My Own House (2012), dan Transactions of Hollow (2017).
Bagi Melati, semua karyanya berangkat dari hasil riset dan pengamatannya akan isu sosial, politik, represi pada perempuan, dan lainnya. Dalam The Black Ball misanya, ia duduk di atas sebuah kursi yang digantung pada dinding setinggi 2 meter, mengenakan daster, dan memegang bola hitam. Dari karya itu, ia ingin menyuarakan ketidakadilan, domestifikasi, dan pembungkaman manusia untuk berpendapat. Melati membagi durasi penampilannya ke dalam 8, 10 jam, dan beberapa hari. 
Sejak delapan tahun terakhir, ia juga aktif berkarya di Studio Plesungan dengan berbagai kegiatan seperti, Performance Art Laboratory Project (PALA) dan Dance Laboratory Project (D_LAP). 
Seluruh karyanya telah dikenal dan diakui dunia internasional. Perempuan yang akrab disapa Mbak Mel ini telah menampilkan karyanya ke berbagai negara-negara Eropa di antaranya, 50th Venice Biennale (2003), Markingthe Territory, IMMA Dublin, Museum Van Gogh Amsterdam (2005), Videobrasil Sao Paolo (2005), Haus der Kulturen der Welt Berlin, 52nd Venice Biennale Dance Festival (2007), Manifesta7, Bolzano, Italia (2008), dan In Transit Festival, HKW Berlin (2009). Pun di Indonesia, sejak empat tahun terakhir, di Indonesia ia telah menampilkan karya di antaranya, Almost There (2011), Sisyphus (2014), Pinjam di Dewan Kesenian Jakarta (2016), Tommorow As Purposed (2016), Sakshat (2018), Vertical Recall di Komunitas Salihara (2017), Opera Gandari (2019), Pentas Bincang Musim Seni Salihara (2020), dan pada Februari – Mei 2020, Melati merayakan dua dekade lebih perjalanan artistiknya dengan menggelar pameran Why Let The Chicken Run? di Museum MACAN.