Ratna Dwi Puspitasari
Tasikmalaya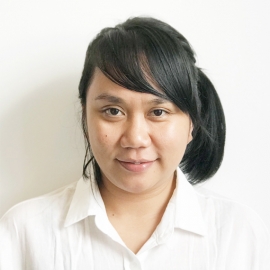 Ratna Dwi Puspitasari, akrab dipanggil Nanna, merupakan Manajer Keuangan di Perkumpulan Koalisi Seni Indonesia.  Nanna memulai aktif di kegiatan organisasi masyarakat sipil pada 2005. Sebagai lulusan program sarjana Ilmu Psikologi, Nanna menerapkan ilmunya sebagai konselor adiksi dan bergabung dengan LBT Crisis Center. Ketertarikan pada sistem organisasi masyarakat sipil membawanya bergabung dengan Yayasan Penabulu sejak tahun 2010. Sebagai spesialis pengelolaan keuangan dan mobilisasi sumber daya organisasi masyarakat sipil di Yayasan Penabulu, Nanna fokus menjalankan fungsi penggalangan sumber dana, penyaluran dan pengelolaan dana hibah, memfasilitasi advokasi kebijakan publik secara berjejaring; memberikan asistensi teknis dan peningkatan kapasitas organisasi dan pengelolaan program dan keuangan kepada mitra untuk mendukung skema hibah lain. 
Saat ini, Nanna bergabung dalam Tim Kerja dalam proyek Penabulu dengan Komisi Eropa sebagai supervisor pengelolaan keuangan program RESBOUND (Responsible and Sustainable Business in lndonesia Palm Oil Plantation) dan sebagai Manajer Keuangan dan Hibah program ECHO Green, Promoting Green Economic Initiatives by Women and Youth Farmer in the Sustainable Agriculture Sector in Indonesia". 
Nanna mengenal Koalisi Seni pada tahun 2017, saat ia mengambil peran sebagai Konsultan Keuangan. Keingintahuan pada isu-isu seni membawa Nanna untuk bergabung menjadi anggota, dan mulai Mei 2019, Ratna dipercaya menjabat sebagai Manajer Keuangan dan Administrasi di Perkumpulan Koalisi Seni Indonesia.