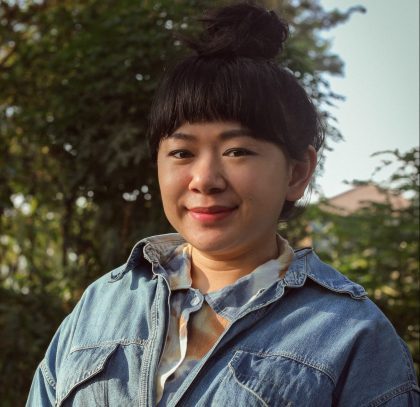 Yaya Sung adalah seorang seniman interdisipliner yang aktif berkarya sejak 2006. Dalam laku artistiknya di dunia seni rupa kontemporer, ia acap menjadikan isu minoritas, perempuan, dan HAM sebagai inspirasinya dalam berkarya. Bagi perempuan kelahiran 2 September 1986 ini, seni tak sekadar menampilkan keindahan namun jua mampu menjadi wadah untuk mengekspresikan aspirasinya. 
Dalam berkarya, ia mengeksplorasi berbagai medium seperti fotografi, videografi, performance, hingga instalasi desain, foto, dan teks. Lulusan Ilmu Desain Komunikasi Visual, Universitas Pelita Harapan ini tertarik untuk mengeksplor dan kolaborasi dengan berbagai lintas disiplin seni, menantang beragam batasan yang menghalangi langkahnya sebagai seniman maupun manusia. 
Sejak 15 tahun berkarya, Yaya Sung telah menjadi pameris di berbagai pameran dan perhelatan seni, di antaranya, Memorial Kamis Payung Hitam (2013 – 2014) – dengan mixed media, foto, video, dan instalasi desain, ia menampilkan wajah para keluarga korban pelanggaran HAM. Karyanya membangkitkan  memori kolektif keluarga korban dan masyarakat untuk melawan lupa terhadap luka sejarah 1998. Pada 2016, dalam peringatan 57 tahun Majalah Api Kartini, ia menampilkan pameran visual dari hasil risetnya mendadah perjalanan majalah perempuan yang terbit pertama kali pada Juni 1959 itu. Dalam pameran yang sama, ia pun mengungkap perayaan dan pencapaian tokoh-tokoh pahlawan yang obskur dalam narasi sejarah Indonesia. 
Ia tak hanya memanfaatkan benda-benda sebagai representasi gagasannya, tapi tubuhnya pula ia gunakan untuk menyerap pengalaman otentik dari riset lapangan yang ia lakukan sebelum mulai berkarya. Selama 72 hari ia pernah tinggal di Treasure Hill, sebagai minoritas di tempat asing, ia mencoba untuk menemukan cerita pribadi yang ia hubungkan dalam latar belakang sejarah dan politik Desa Artis Treasure Hill. "Jika anda adalah orang luar, anda selalu bekerja untuk melihat sudut pandang orang yang berbeda karena dunia tidak pernah menjadi milik anda," ungkapnya. 
Dikenal di dunia seni rupa Indonesia, Yaya Sung juga telah melebarkan kiprah artistiknya ke ranah internasional, seperti, Black Umbrella Thursday Memorial, Yokohama, Jepang (2014), Open Calling, Taipei Cultural Foundation, Treasure Hill Artist, Taiwan (2016), The History of the Boys: the MES 56 and Beyond, Singapura (2017), The Future (Lies) 7 Channel Video #PerempuanxMappingMelbourne (2018),  Project Eleven #Perempuan, Melbourne, Australia (2018),  dan Crossroads/Titik Temu: Eugenia Lim x Yaya Sung, Collingwood, VIC.