Irmawati Puan Mawar
Makassar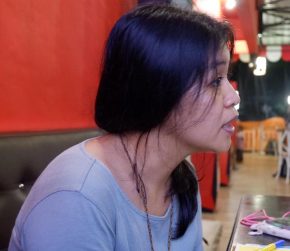 Irmawati Puan Mawar, adalah jurnalis dan penulis lepas yang berdomisili di Makassar. Sebagian besar karya jurnalistiknya dimuat di Tempo, jurnalis Tempo (2003-2016) dan saat ini bekerja sebagai jurnalis freelance. Beberapa karya jurnalistiknya ditulis ulang menjadi buku bacaan anak yakni "Emmy Saelan Perempuan di Palagan" 2018, "Emmy Saelan" 2019, dan "Ma'nene, Menjenguk Leluhur di Patane" 2020.
Terpilih dalam pertukaran pemuda "Jenesys Young Opinion Leaders Programme" ke Jepang pada 2011, penerima fellowship Ekologi Sulawesi 2011-2012 dari WWF dan SIEJ, sarjana sains lulusan Universitas Hasanuddin ini juga cukup fokus pada bidang jurnalisme sains dan menjadi peserta Fellowship of Science journalism COOPeration (SjCOOP) Asia 2013-2014 yang dilaksanakan World Federation of Science Journalists (WFSJ), penerima Fellowship Penulisan Karya Jurnalistik Tentang Aksara Nusantara 2021.
Punya perhatian yang besar terhadap kebebasan berekspresi dan adil gender. Pernah mengikut workshop Finalisasi "Promosi CEDAW melalui Budaya Adil Gender" 2015, peserta Regional Conference "Working Towards Justice and Equality in Muslim Families in Diverse Contexts (Indonesia, Malaysia, Singapura) pada 2015, peserta Lokakarya Artistic Freedom yang diselenggarakan UNESCO bekerjasama dengan Koalisi Seni Indonesia, 2021. Anggota Pokja Gender di Koalisi Seni Indonesia. Pendiri dan ketua Komunitas Literasi Makassar, pendiri dan pengurus Society of Indonesian Science Journalists (SISJ), pendiri Institut Sastra Makassar (ISM).