The Jakarta Post, 26 September 2020
Oleh Made Anthony Iswara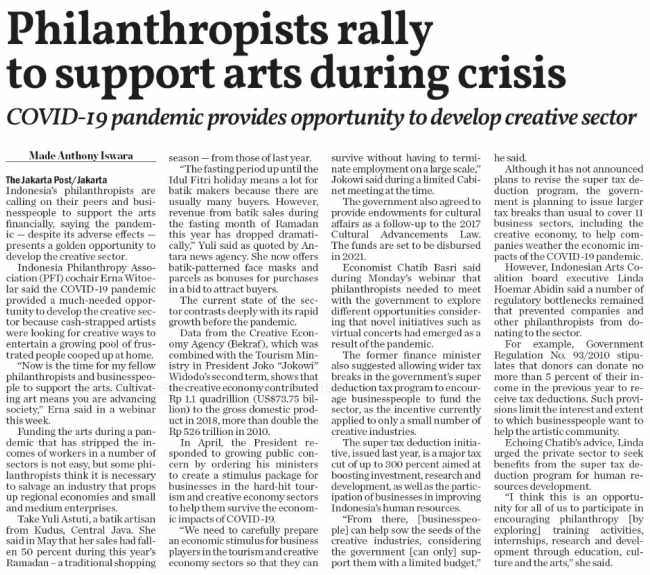 Indonesia's philanthropists are calling on their peers and businesspeople to support the arts financially, saying the pandemic – despite its adverse effects – presents a golden opportunity to develop the creative sector.
Indonesia Philanthropy Association (PFI) cochair Erna Witoelar said the COVID-19 pandemic provided a much-needed opportunity to develop the creative sector because cash-strapped artists were looking for creative ways to entertain a growing pool of frustrated people cooped up at home.
"Now is the time for my fellow philanthropists and businesspeople to support the arts. Cultivating art means you are advancing society," Erna said in a webinar this week.
Funding the arts during a pandemic that has stripped the incomes of workers in a number of sectors is not easy, but some philanthropists think it is necessary to salvage an industry that props up regional economies and small and medium enterprises.
Take Yuli Astuti, a batik artisan from Kudus, Central Java. She said in May that her sales had fallen 50 percent during this year's Ramadan – a traditional shopping season – from those of last year.
"The fasting period up until the Idul Fitri holiday means a lot for batik makers because there are usually many buyers. However, revenue from batik sales during the fasting month of Ramadan this year has dropped dramatically," Yuli said as quoted by Antara news agency. She now offers batik-patterned face masks and parcels as bonuses for purchases in a bid to attract buyers.
The current state of the sector contrasts deeply with its rapid growth before the pandemic.
Data from the Creative Economy Agency (Bekraf), which was combined with the Tourism Ministry in President Joko "Jokowi" Widodo's second term, shows that the creative economy contributed Rp 1.1 quadrillion (US$73.75 billion) to the gross domestic product in 2018, more than double the Rp 526 trillion in 2010.
In April, the President responded to growing public concern by ordering his ministers to create a stimulus package for businesses in the hard-hit tourism and creative economy sectors to help them survive the economic impacts of COVID-19.
"We need to carefully prepare an economic stimulus for business players in the tourism and creative economy sectors so that they can survive without having to terminate employment on a large scale," Jokowi said during a limited Cabinet meeting at the time.
The government also agreed to provide endowments for cultural affairs as a follow-up to the 2017 Cultural Advancements Law. The funds are set to be disbursed in 2021.
Economist Chatib Basri said during Monday's webinar that philanthropists needed to meet with the government to explore different opportunities considering that novel initiatives such as virtual concerts had emerged as a result of the pandemic.
The former finance minister also suggested allowing wider tax breaks in the government's super deduction tax program to encourage businesspeople to fund the sector, as the incentive currently applied to only a small number of creative industries.
The super tax deduction initiative, issued last year, is a major tax cut of up to 300 percent aimed at boosting investment, research and development, as well as the participation of businesses in improving Indonesia's human resources.
"From there, [businesspeople] can help sow the seeds of the creative industries, considering the government [can only] support them with a limited budget," he said.
Although it has not announced plans to revise the super tax deduction program, the government is planning to issue larger tax breaks than usual to cover 11 business sectors, including the creative economy, to help companies weather the economic impacts of the COVID-19 pandemic.
However, Indonesian Arts Coalition board executive Linda Hoemar Abidin said a number of regulatory bottlenecks remained that prevented companies and other philanthropists from donating to the sector.
For example, Government Regulation No. 93/2010 stipulates that donors can donate no more than 5 percent of their income in the previous year to receive tax deductions. Such provisions limit the interest and extent to which businesspeople want to help the artistic community.
Echoing Chatib's advice, Linda urged the private sector to seek benefits from the super tax deduction program for human resources development.
"I think this is an opportunity for all of us to participate in encouraging philanthropy [by exploring] training activities, internships, research and development through education, culture and the arts," she said.
Foto ilustrasi: Pickpik